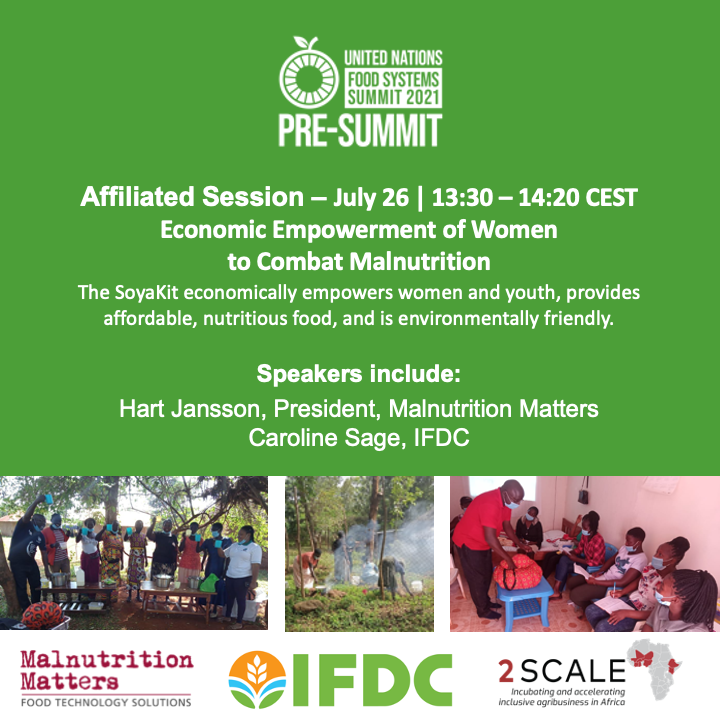 "The Economic Empowerment of Women to Combat Malnutrition," a 2021 United Nations Food Systems Summit Pre-Summit Affiliated Session, discussed the SoyaKit, a soy processing system that allows women in rural areas to generate livelihood improving income and fight malnutrition in their families and communities.
To alleviate malnutrition in a sustainable manner and to progress toward gender equity, local, nutritious food-centered micro-enterprise is pivotal. IFDC and Malnutrition Matters empower rural or village-based women and youth to use the low-cost SoyaKit to make affordable protein-rich soyfoods for their neighborhoods, while making a daily $4 profit. Increased income generation is foundational for gender equity. This micro-enterprise requires 2 days' training in food-processing and business, is environmentally friendly (soyfoods require 10x less energy than animal protein), produces many tasty foods, is quickly profitable, and is a strong catalyst for gender equity initiatives with a policy/cultural/educational focus.
Hart Jansson, President of Malnutrition Matters, launched the session with a discussion of improved nutrition, rural employment, and Malnutrition Matters' history of success with projects such as the SoyaKit. Jansson was joined by panelist, Caroline Sage, Business Development Associate at IFDC. Sage covered IFDC's work and that of 2SCALE, a consortium project led by IFDC that empowers and links women entrepreneurs to profitable markets.
The full session can be viewed below.
Malnutrition Matters is a Canadian-registered, non-profit organization, dedicated to providing sustainable low-cost food technology solutions for malnutrition, primarily by using soya, but also cereals, grains, fruits and vegetables. The technologies offered are platforms for micro-enterprise that enable a sustainable approach: income is earned by women and youth while affordable, nutrient-dense food is provided locally. Use of local produce and plant-based protein enable 5 to 10 times less energy, land and water use compared to animal-based proteins.
An independent non-profit organization, IFDC is active in 20 countries in Africa, Asia, and America. Combining science-backed innovations, an enabling policy environment, holistic market systems development, and strategic partnerships, the organization bridges the gap between identifying and scaling sustainable soil solutions, resulting in improved household food security and enriched family livelihoods around the world. Using an inclusive approach, IFDC employs locally driven, environmentally sound, and impact-oriented solutions that bring change at local, regional, and national levels.