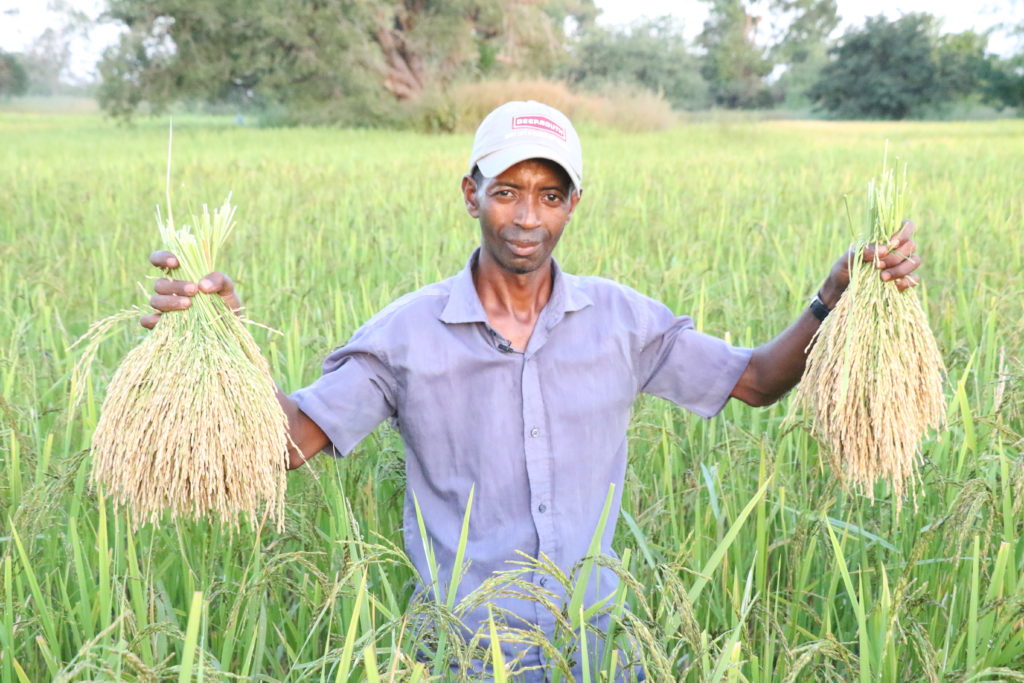 Born in Kolda, Bilaly Baldé is a 37-year-old married man and father. Although he had been a good student, he had to interrupt his studies to try to emigrate to Spain via Morocco in 2004. Returning in 2008 after four years of wandering in the woods of Tangier (Morocco), Baldé devoted himself to growing rice in his native region. With yields of around 3 metric tons per hectare, he found it difficult to feed his family all year round.
The Dundël Suuf project changed my life!
As a beneficiary of the Feed the Future Senegal Dundël Suuf project in 2020, Baldé harvested a record 12 metric tons of rice from the 2 hectares he planted using climate-smart Urea Deep Placement (UDP) technology. Satisfied with his results, he managed to mobilize 80 young people in his commune around an initiative called "One young person, One hectare of UDP".
Everyone is now a fan of UDP technology.
In Boguel, a short distance from Kolda, Baldé is now a recognized leader in the farming community. He regularly tours agricultural plots to advise producers on the performance of UDP technology, which Dundël Suuf introduced through La société de développement agricole et industriel du Sénégal (SODAGRI). It has been a revolution for Baldé and the farmers working in the Boguel valley.
"For almost a year I have been working with Dundël Suuf and SODAGRI. Alhamdulillah, what I have seen in terms of yield, I have never seen in terms of production," says Baldé. Last year with the Dundël Suuf project, the former immigrant explains, "During the off-season, I sowed 2 hectares and obtained 12 metric tons of rice. This is something I have never had in terms of yield. "Before the Dundël Suuf project, we had low yields of around 3 or sometimes 4 metric tons per hectare."
The exceptional production has bolstered food security for the family of Baldé and others in the community.
"Since the arrival of Dundël Suuf, we no longer have problems with rice in my locality. Finally, since last year, I have enough to feed my family," says the young farmer.
With his food needs covered throughout the year, he has found the economic stability he thought he would find in Spain.
"Before, if I had 10,000 CFA francs, I would run straight to the shop to buy food for my family. But now, thanks to Dundël Suuf, I can save that money.
"Sincerely, the Dundël Suuf project has changed my life," says Bilaly, adding, "I will never migrate again."
In the Boguel valley, the radiant faces, smiles, and applause of the women in the middle of the yellow rice fields speak volumes about the positive impact that the Dundël Suuf project has had on many small producers.