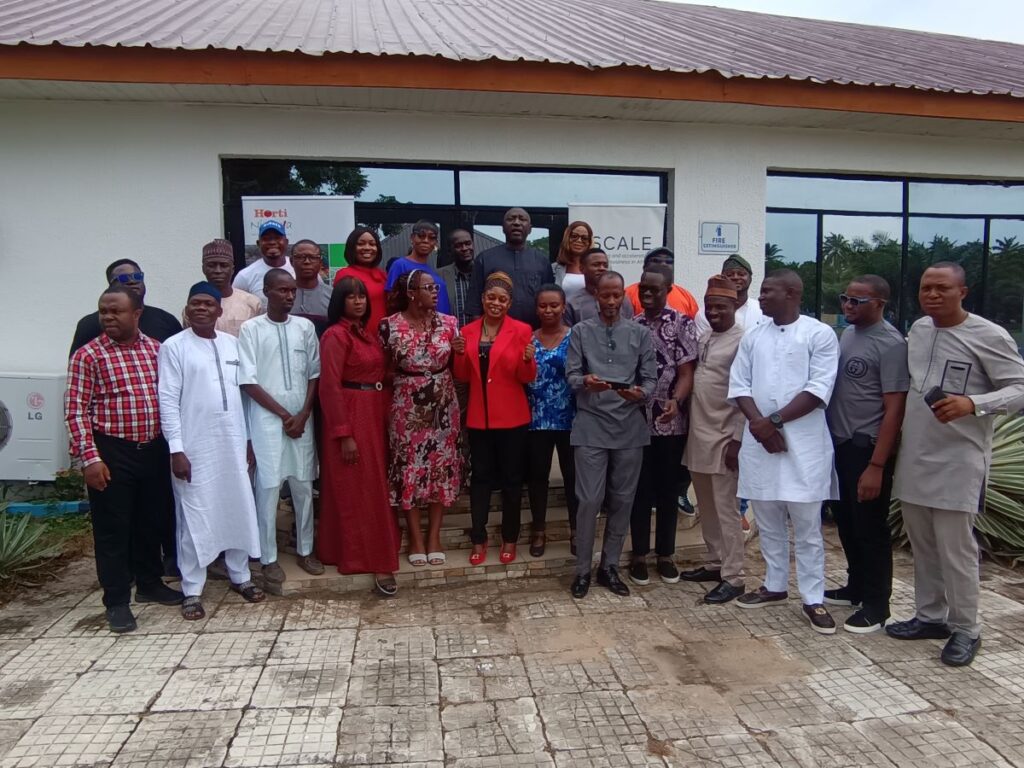 2SCALE and HortiNigeria members join together for a mid-term reflection session to share program achievements and activities.
The Toward Sustainable Clusters in Agribusiness through Learning in Entrepreneurship (2SCALE) and HortiNigeria programs recently collaborated to organize a highly beneficial three-day training on vertical coordination for their respective team members. The main objective of this training was to enhance their capabilities in supply chain coordination, which will lead to improved efficiency and effectiveness in program implementation.
More than 20 dedicated staff members and consultants from both programs actively participated in the training, demonstrating their commitment to learning and underscoring the significance of this initiative. The training aimed to provide direction on synchronizing the vertical stages of the food value chain and thereby boosting efficiency through risk management related to markets, improved quality assurance, and responsiveness to demand. Tighter coordination of linkages in the supply chain will ultimately decrease commodity supply prices within the sector.
2SCALE's Country Team Lead, Maxwell Olitsa, emphasized the distinctiveness of vertical coordination from conventional value chain integration and the importance of these approaches in sustainable food systems development. This was corroborated by the HortiNigeria Program Director, Mohammed Salasi Idris, who highlighted the importance of this training, stating that it will help streamline and formalize new and existing partnerships, ensuring sustainability within the sector.
Following the training, both programs conducted a two-day mid-term reflection session, allowing staff members to share their achievements, challenges, and learnings from the year. The reflection session provided valuable insights and paved the way for potential program collaborations in 2023 and 2024.
The activities concluded with a one-day team-building activity, fostering stronger bonds and collaboration between both programs. Overall, this joint effort is expected to have a positive impact on the overall performance and outcomes of both 2SCALE and HortiNigeria, ensuring a more efficient and coordinated approach in their programs.
2SCALE, currently in its second phase, offers a range of support services to private partners – companies and farmer groups – enabling them to produce, transform and supply quality food products to local, national, and regional markets, including base-of-the-pyramid consumers. HortiNigeria is facilitating the development of a sustainable and inclusive horticulture sector that contributes to food and nutrition security in Nigeria. Both programs are funded by the Dutch government and implemented by IFDC.