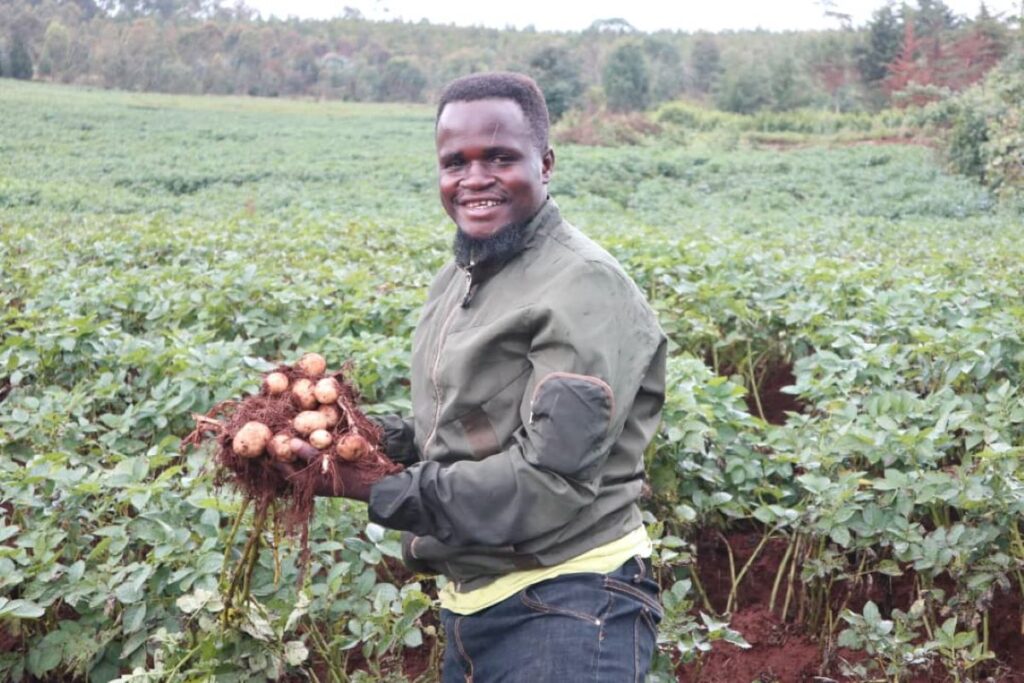 Emery Munezero shows his successful harvest of potatoes.
Emery Munezero had not engaged in agricultural activities since he was a child. In fact, he admits he used to underestimate and criticize those who farmed, thinking that it had no importance in terms of income.
Munezero holds an A2 technician diploma and previously had a job repairing computers and mobile phones. One day on his way to work in Gisozi, Burundi, Munezero noticed the thriving potato plantations. He asked the owner of the field how productive the crops were and how much income he earned from his production. During the conversation, Munezero learned about the basics of growing potatoes, how to access first generation seeds, fertilizers, and crop protection products, the labor involved, and much more.
"When I asked for a comparison of the cost of production and the money earned from selling it, I understood that it was more profitable than my job as an electronics technician."

Emery Munezero
Curious about this newfound opportunity, Munezero wondered about how he could find the startup capital to begin a career as a potato seed multiplier. Munezero first invested in planting 100 kilograms (kg) of seed, which resulted in 1,000 kg of production. As the activity became profitable, Munezero took all the money he earned from his job as a technician and other side jobs to increase the capital he could invest in this new business.
With support from the Private Seed Sector Development (PSSD) project, Munezero began to build his business, planting 500 kg of basic seeds, which led to a production of 5.2 metric tons (mt). His certified seeds produced excellent yields for the farmers who purchased them.
A neighboring seed multiplier advised Munezero that he could leave the informal sector, since the seeds he produced were of such good quality. In response to the advice, Munezero requested approval from the National Office of Seed Control and Certification (ONCCS) to become an approved seed multiplier, and he received a favorable response. He followed the entire certification process, from planting in the field to harvesting and packaging the potato seeds. Munezero increased his production area to 2 hectares and obtained 30 mt of production, 10 mt of larger potatoes to be sold as food and 20 mt of certified seed.
Munezero started his business with 500,000 Burundian francs (about U.S. $176.65), and he has earned more than 15 million Burundian francs (about U.S. $5299.54). Thanks to the financial support from the PSSD project, Munezero now farms an area of 8 hectares. He has also received assistance from the project with seed sales through advertising and holding mini-fairs, so that customers have easy access to quality seeds.
Currently, Munezero is selling an impressive 4 mt of seeds per day, demonstrating the confidence farmers have in his seeds. This has led to a surge in customers, reaching a point where demand often exceeds his supply, highlighting the overwhelming success he has achieved.
The Private Seed Sector Development (PSSD) project (2018-2023), funded by the Embassy of the Kingdom of the Netherlands in Burundi and implemented by the International Fertilizer Development Center (IFDC), aims to increase the production and incomes of 178,000 farmer households in Burundi. The project works with private and public sector partners to promote the development of a private sector-led seed industry that is able to provide farmers with sustainable access to high-quality seed and agricultural advisory services.