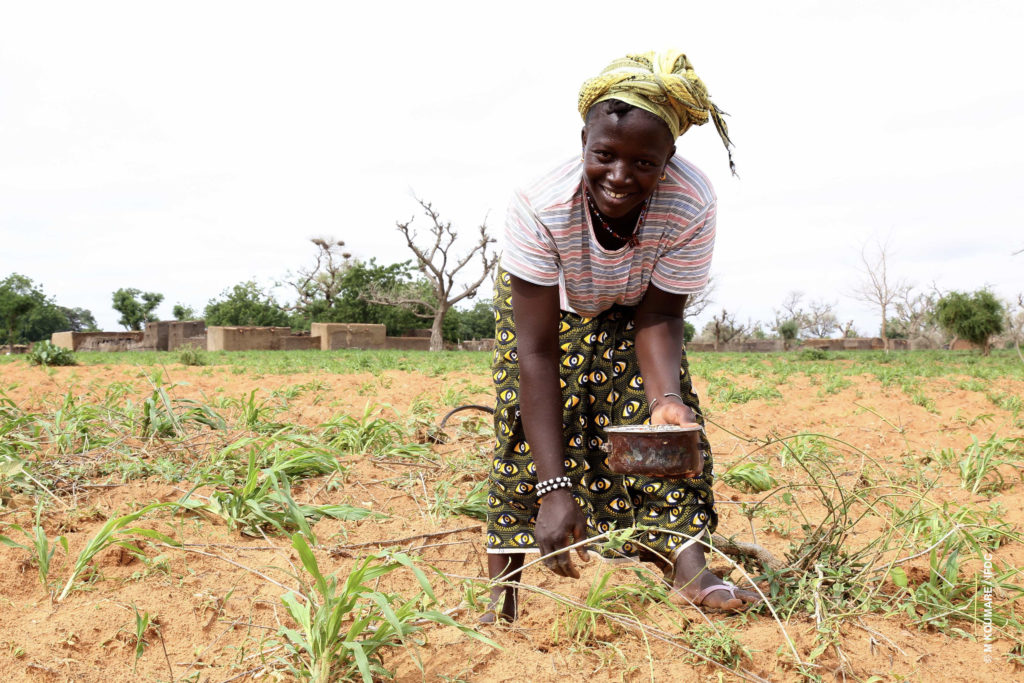 The Scaling Up Fertilizer Deep Placement and Microdosing Technologies in Mali project (FDP MD), funded by the U.S. Agency for International Development (USAID) from 2014 to 2019, increased cereal and vegetable productivity through innovative fertilizer-based technologies while improving resource-poor farmers' access to quality and nutritious food.
Cumulative Highlights
307,526 people (26% women) were trained on the fundamentals of fertilizer deep placement (FDP), integrated soil fertility management (ISFM), and good agricultural practices (GAPs)
For all crops combined, producers were able to generate over U.S. $29,934,000 in additional income.
284,865 people (22% women) were trained on the fundamentals of microdosing (MD), ISFM, and GAPs.
90,673 ha of rice land and 1,380 ha of vegetable land planted under FDP by 189,647 producers (24% women) and 5,661 producers (62% women), respectively.
Fertilizer Deep Placement
Rice and vegetable farmers were able to increase their yields and incomes using fertilizer deep placement (FDP). Fertilizer briquettes are placed into the soil, near the plant's root zone, providing the plant with nutrition throughout its growth cycle. FDP increases the efficiency of Nitrogen (N) fertilizers while reducing runoff and greenhouse gas emissions. In addition, FDP reduces weeds, encourages better water management, and ensures the availability of N until the flowering stage.
Utilizing Microdosing
Farmers also implemented micro-dosing (MD) technology, the application of very small amounts of fertilizer directly to plant roots. The method increases fertilizer efficiency and can double the productivity of millet and sorghum crops. It allows for a more efficient use of fertilizer and helps to significantly increase agricultural yields. With the use of MD, the amount of fertilizer needed per hectare is only 20 to 35 kg versus 100 kg for farmers, which is a saving of 75 to 80 percent.
Project Documents
Contact Project Leader