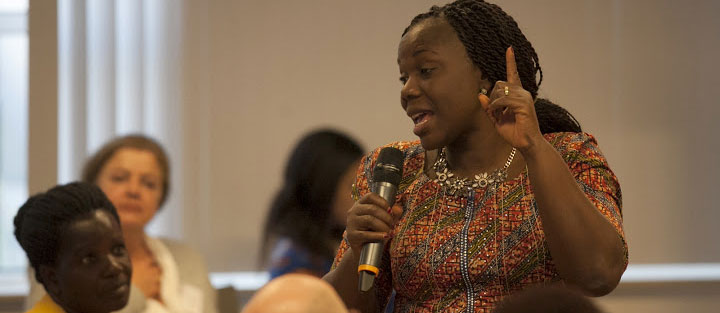 A 2SCALE business conference in The Hague has opened the door to new business deals between food processors, importers, equipment manufacturers, and banks.
The conference, Food for Thought: Made in Africa, for Africa, was held in October 2015. It featured presentations by the CEOs of seven 2SCALE partner firms: AACE Foods and Psaltry (both from Nigeria), Promo Fruits (Benin), GUTS Agro (Ethiopia), Fruittiland (Ghana), Shalem Investments (Kenya), and Acila Enterprises (Uganda). They were looking for business, but they also proved to be good ambassadors, showcasing the impact of 2SCALE on their businesses and the farming communities they support.
Following the conference, the entrepreneurs visited 27 Dutch enterprises in Utrecht, ranging from multinationals like Heineken to traders in second-hand machinery, from spice importers to companies making digesters that transform organic waste into biogas. They also met with six large investors (Incluvest, Oikocredit, ICCO, etc.) interested in funding profitable but socially significant ventures.
The results are promising: Psaltry International (partnering with a Heineken subsidiary) will invest in the re-use of organic waste for biogas and as fertilizer; Dutch energy experts will provide technical support. AACE Foods identified a new buyer for spices. The first samples, delivered in early 2016, are being tested for compliance with EU food safety regulations. GUTS Agro began negotiations with manufacturers of soya extruders. Fruittiland met with the Dutch importers' organization to boost citrus exports. Acila Enterprises and Shalem are negotiating with suppliers of processing machinery. Promo Fruits is discussing options for exporting juice concentrate to a Dutch multinational.
"Inclusive business is at the core of Dutch government policies on private sector development. The companies that are here today have committed to inclusive business and to sourcing their raw materials from small-scale farmers supported by 2SCALE. 2SCALE functions as an incubator to nurture this kind of entrepreneurship. The role of the Ministry is to help them overcome the initial barriers and costs."
-Jeroen Roodenburg, Ambassador, Private Sector & Development Cooperation