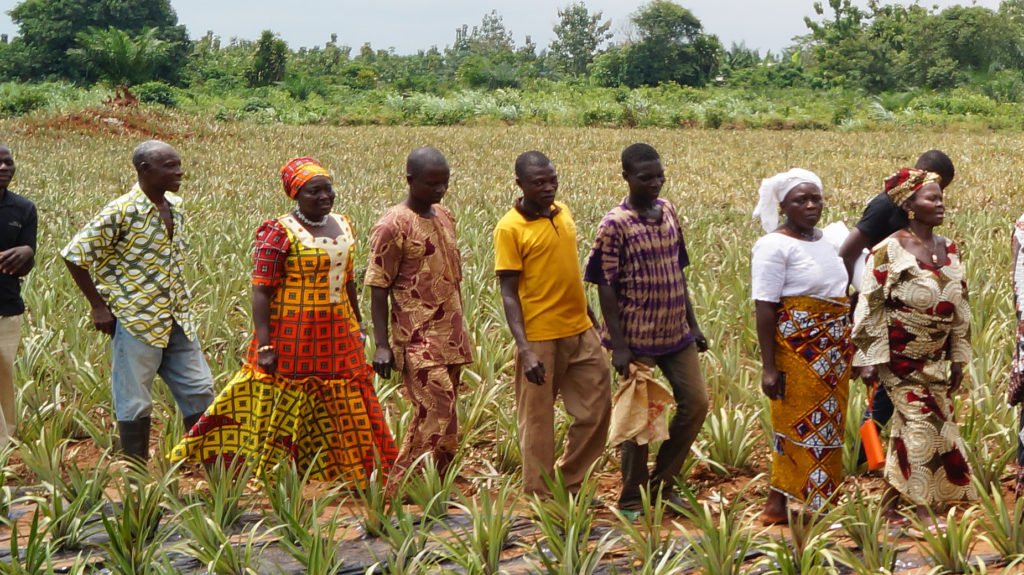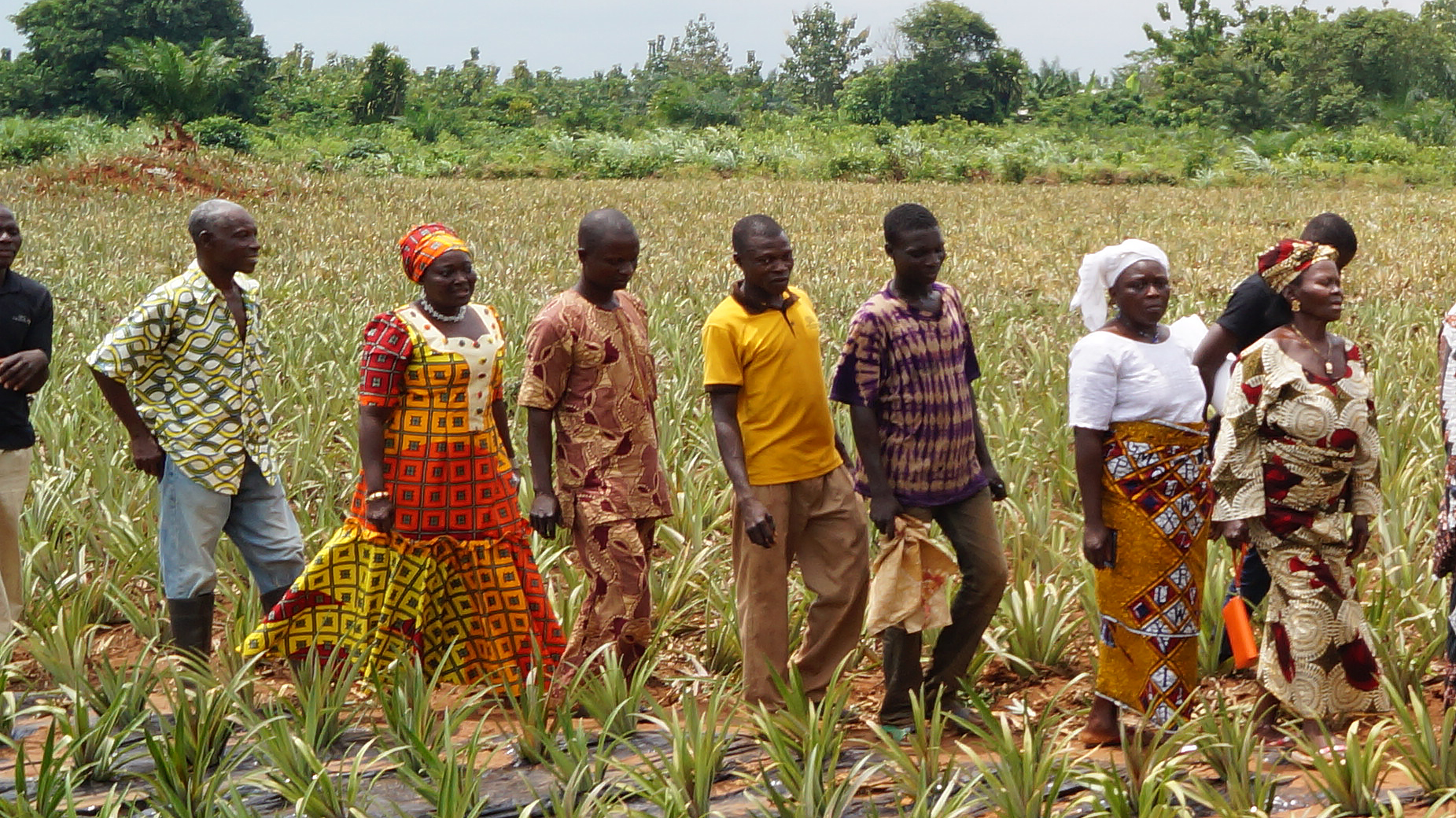 With a potential income of $1300 per hectare (ha), achievable over a production cycle of 10 to 14 months, pineapple production provides a profitable opportunity for thousands of Beninese small-scale producers, especially those who, like Sylvie Affon-Amonmi, provide fresh pineapple at Promo Fruits, leader of the natural juice industry in Benin and partner of IFDC's 2SCALE project.
Sylvie manages a pineapple farm of about 7 ha and employs three permanent workers, but she also gets support from a 14-member women's group. This group is a response to the challenges faced by most pineapple producers in Benin, but especially women farmers: the scarcity and high cost of farm labor for jobs such as weeding and the high cost of fertilization of pineapple plots. In addition, these women must overcome the societal norms and hindrances, such as a low level of education, that limit their access to finance and technological innovations.
2SCALE Learning Plots
To mitigate this inequality, 2SCALE and its partners introduced learning plots to observe and offer best practices for weed control and fertilizer application. Twenty learning plots have been set up at the nine producer organizations that supply Promo Fruits with fresh pineapples. The technical solutions tested included approved herbicides, polyethylene film for weed control, and various combinations of mineral and organic fertilizers.
Using a participatory and inclusive approach, 2SCALE partners involved 1,904 pineapple producers (including 362 women) in this collective learning exercise. At the beginning of the process, each agribusiness cluster (ABC) appointed three to four lead producers who were responsible for the daily monitoring of the plots. To facilitate the dissemination of the experimental innovations to the other producers, guided tours were organized at each key stage of the production cycle. These visits included both producers, their workers, and specialized technicians. In total, four series of guided tours were organized throughout the cycle.
Weed Control
For weed control, both the use of plastic film and the use of herbicides resulted in high yields equivalent to those of intensive manual weeding (yields of 70 mt/ha). For women producers such as Sylvie, who have limited access to labor and inputs, this surplus is significant since producers' usual yield is about 35 mt/ha.
In addition, plastic film produces a gross margin 61% higher than that of manual weeding, allowing farmers to save money and increase profits.
Fertilizer Recommendations
Trials have shown that high doses of NPK fertilizers produce significant yields (70 mt/ha). But this affects the quality of fruits, with sugar levels below the standards required by Promo Fruits. The economic analysis also does not advocate this farmer practice of fertilization, which is very expensive and hardly compensates for the investments made.
2SCALE's trials show the use of pineapple residue and neem cake, properly combined with sulphate of potash and urea supergranules, results in similar yields. This smart fertilization limits the expenses of fertilizers and increases the yield up to 85%. It also gives high quality fruits that meet the requirements of the factory in terms of rates of sugar and aromas. These findings illustrate the importance of organic matter and sulphate of potash, but also the physical form of urea which, in supergranules, is more beneficial to the plant.
"I never knew that you could have a complete harmonizing success in a field and that all the pineapple plants will give flowers and fruit together," says Sylvie. "I finally understood, by participating in this 2SCALE program, that this is possible. You must choose good fruits, sort well and install them properly, and then follow a good fertilization regime. If the producer himself follows the operations with his workers, he will have large, uniform fruits that will cost more on the market. These activities showed me that in the past, we were losing a lot of money. I have already started using several of these new technologies on my own fields," says Sylvie.
For Collette Ahouangan, a member of Sylvie's women's group, the technologies introduced by 2SCALE are liberating women: "Demonstration plots have revealed something extraordinary for us women. Now with plastic film, there is no more need to run behind the workers to do the weeding. The plastic film frees us up, provided that we can buy them at our disposal and on credit."
Through a recent business trip in Thailand facilitated by 2SCALE and Oikocredit, the IRA Platform producers, in collaboration with Promo Fruits, were able to purchase 40 tons of plastic film at half the cost of the product on the local market. Discussions are also underway between the IRA Platform and Promo Fruits so that the same system of payment on input credit (guaranteed by Promo Fruits equipment), with source levied by the factory, is applied for plastic films. Finally, a device for the recovery and recycling of plastics is provided to prevent any risk of environmental pollution. The plastics will be recovered at the end of the harvest and sold to a Beninese company, which will use them to manufacture cobblestones.