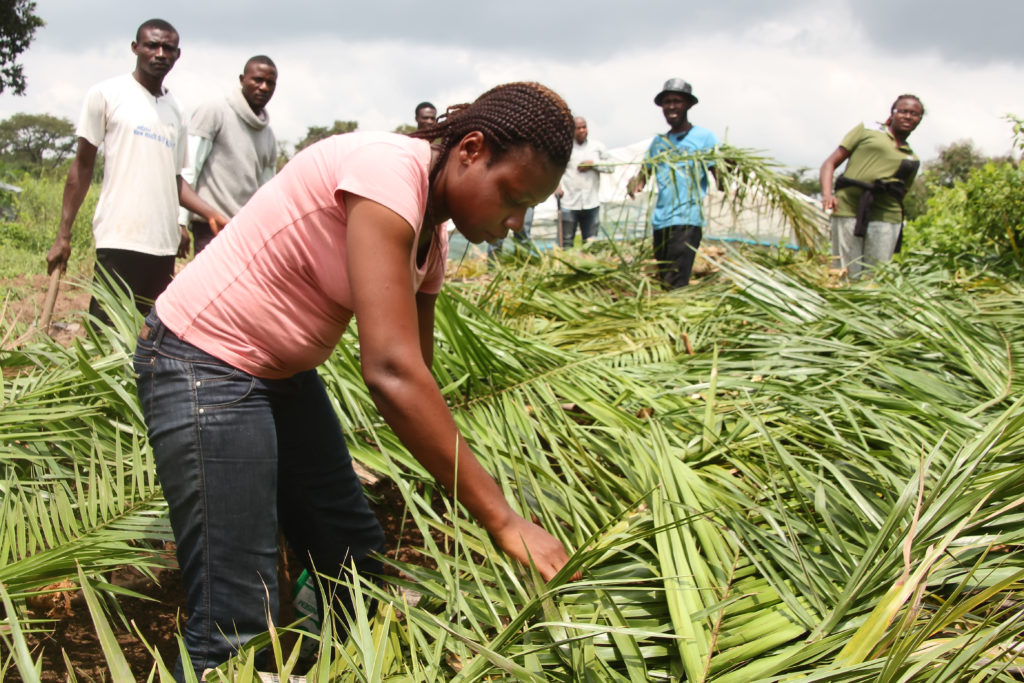 Youth in a Field at a Learning Center in Nigeria
Recently, SPAR International and the Artee Group (AG) have embarked upon an ambitious new initiative to support smallholder Nigerian farmers to produce high-quality fruits and vegetables for Nigerian consumers.[1]
To achieve this, the IFDC-led 2SCALE program has been collaborating with AG. The partnership with AG aims to support the establishment of a Farmers' Academy in Sagamu in Nigeria. The Academy will be a not-for-profit and self-sustaining organization to assist smallholder farmers, including the youth, to grow the skills, businesses, and local networks (i.e., Agribusiness Clusters) to produce high-quality fruits and vegetables, for further uptake by SPAR and other buyers. The Academy will be complemented by the creation of an Agri-Service Park to facilitate access to affordable agro-inputs and related services for smallholder farmers and their local suppliers (Inputs & Services) and to broker, coordinate and support long-term inclusive business relations between smallholder farmers and the retail sector, including SPAR.
The establishment of the Farmers' Academy will be championed by the Artee Group Foundation (AGF), and is linked to the Corporate Social Responsibility (CSR) policy of AG. Through the Academy, professional and practical training to the farmers and youth will be facilitated by 2SCALE in conjunction with AG and other private partners in the vegetable partnership. Farmers that have gone through the training program will be offered the opportunity to participate in outgrower schemes (contractual arrangements) for the aggregation and further distribution/marketing of fresh and/or processed fruits and vegetables.
"Agriculture is no longer just farming. It is now a business, with decent job opportunities. Unfortunately, what we generally see in Nigeria are young men and women migrating to cities to look for white-collar jobs. To facilitate food production, availability and sustainability, there is an urgent need to face the issue of the aged farmer population in agricultural production in the country. That's why 2SCALE will pay special attention to youth participation in this program in Nigeria, where the majority of the food is produced by aged men and women in rural communities, using rudimentary technologies and lacking the structural linkages with remunerative markets," said Thompson Ogunsanmi, 2SCALE agribusiness advisor in Nigeria.
Elephant Vert (EV) has been engaged by 2SCALE to be involve in the preliminary activities. Activities are currently on going in the field with staff of SPAR, EV and 2SCALE. All technical requirements and principles that assisted in the design and set-up of a Farmers' Academy were arranged in May and June 2017. This included development of a plan for setting up the FA and Agri-Service Park, including experimental, learning or/and demonstration plots.
[1] The SPAR franchise and license for Nigeria was granted to the Artee Group (AG) in 2009. AG is one of Nigeria's leading business houses, and a parenting company to various enterprises involved in manufacturing, distribution and retail. Over the past years, the SPAR presence in Nigeria has increased to 11 hypermarkets and several other supermarkets in key cities, including Lagos, Abuja, Port Harcourt, Calabar, across the country.