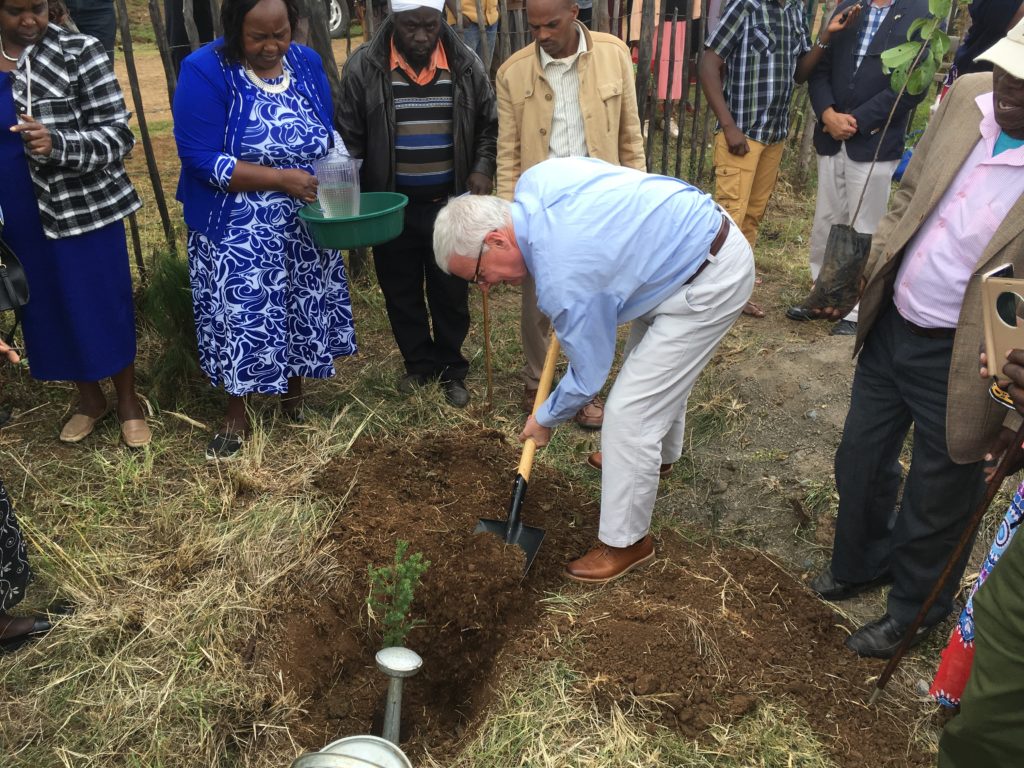 Scott Angle plants a tree to mark the potato storage inauguration.
IFDC president and CEO, Dr. J. Scott Angle, recently visited agribusinesses in Kenya and inaugurated a new potato storage facility constructed to support local farmer groups. The IFDC team toured Shalem Investments, an agri-food company partnering with the Netherlands-funded 2SCALE program, and New Holland Chips. 2SCALE offers a range of support services to private partners – companies and farmer groups – enabling them to produce, transform, and supply quality food products to local, national, and regional end-user markets, including base-of-the pyramid consumers.
Ruth Kinoti, founder and CEO of Shalem Investments, gave a tour of her new factory, which makes fortified sorghum flour from sorghum purchased from 2SCALE farmers. 2SCALE has helped her grow from trader to processor, selling her own brand of flour. New Holland Chips owner, Jean Pierre, also sources from local farmers. New Holland partners with potato growers in Laikipia County.
Many rural potato farmers lack proper storage. Dr. Angle and Irish Ambassador to Kenya, Dr. Vincent O'Neill, inaugurated a new potato storage facility, constructed through an Irish Aid project implemented by IFDC to strengthen the potato value chain. This storage building will help farmers in Nyeri, Kenya, reduce post-harvest losses.
View a photo slideshow of the trip below.