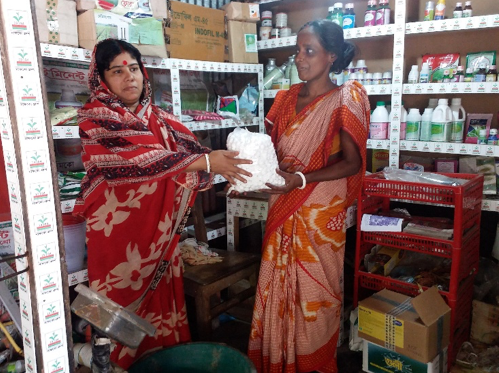 Shapna Mondal, popularly known as Guti Boudi (Guti sister-in-law) among her neighbors, is a female briquetting machine owner in Southern Bangladesh. Shapna, 35, is married to Tapan Mondal, an agro-input retailer who sells crop seeds, fertilizers, and pesticides in his shop. After their marriage, Shapna started to help her husband in his business, which was not running smoothly at the time. With their low income and need to feed a family of five, maintaining a decent livelihood was tough. Shapna and Tapan have two sons and one daughter. Their eldest son is studying at Patuakhali Polytechnic Institute, their daughter is a student in grade seven, and their youngest son is two-and-a-half years old.
Before 2014, the family mainly depended on Tapan's business. A sub-assistant agriculture officer (SAAO) of the Department of Agricultural Extension (DAE) and an IFDC field monitoring officer (FMO) met Shapna in 2014. The FMO and SAAO were looking for promising rural women who were interested in starting a new business with a fertilizer briquetting machine. After interviewing several women, Shapna was chosen to be promoted, since she was interested in starting a business to improve her family's income. DAE and IFDC field staff explained to Shapna the objectives of the IFDC-Walmart activity – to assist rural women to increase the productivity of high-value vegetable crops with improved technologies such as GAPs, including FDP, and to empower women to increase their income and improve the nutrition status of their family members. They also informed her that the project was offering training to women farmers on good agricultural practices and fertilizer deep placement (FDP) application in vegetable crops. This technology has several benefits, including increase in yields, saving on fertilizer costs, production of a uniform crop, fewer weeds, fewer pest attacks, and a reduction in greenhouse gas (GHG) emissions.
The IFDC-Walmart Phase I project facilitated the purchase of a fertilizer briquetting machine for Shapna at a cost reduction of 80 percent. Her husband initially was not convinced that his wife had the ability to run a business of her own. But she told her husband that she attended an IFDC-Walmart training program and felt confident she could run the business, and her husband reluctantly paid the 20 percent cost of the fertilizer briquetting machine. Shapna attended one of the IFDC-Walmart-organized training programs for machine owners on maintenance, bookkeeping, and operation of the machine. After the training, she began to play a greater role in her husband's shop, which became a family business. Shapna is the only woman briquetting machine owner in her area. She started her business with full dedication and proved her ability by immediately making a profit. She transformed herself into a successful female entrepreneur.
Establishing herself as an entrepreneur was not an easy task. When she first decided to move into the briquetting business and started visiting the market in Madra, male fertilizer traders teased her and questioned her ability as a businesswoman. But Shapna ignored their negative attitudes and continued to focus on growing her business as a fertilizer deep placement (FDP) trader by investing in customer service and positive relationships with her clients. The below table shows a comparison of Shapna's briquetting business from 2014-15 and 2016-17.
| | | | | |
| --- | --- | --- | --- | --- |
| Year | Briquettes Produced (mt) | Briquettes Sold (mt) | Sold Price (Tk/kg) | Proceeds from Sales (Tk) |
| 2014-15 | 32 | 32 | 19 | 608,000 |
| 2016-17 | 67 | 67 | 19 | 1,273,000 |
The demand for briquetted fertilizer is increasing every day in vegetable and rice cultivation. Shapna generally purchases prilled urea at Tk 16 per kilogram (kg) and sells briquetted urea at Tk 19/kg (US $0.19 and $0.22 per kilogram, respectively). After deducting the production cost and maintenance cost of the machine, she earns a net profit of Tk 2/kg. She is gradually improving her business, and the family is becoming more comfortable as her income increases.
Shapna became a member of a community women's group and has dedicated herself as a facilitator for future women entrepreneurs. She also actively participated in AVPI-IFDC activities, such as a motivational meeting and a briquetting machine owners' workshop. She spends her time motivating other farmers to use FDP and GAPs in their crop production which, in turn, increases her client network.