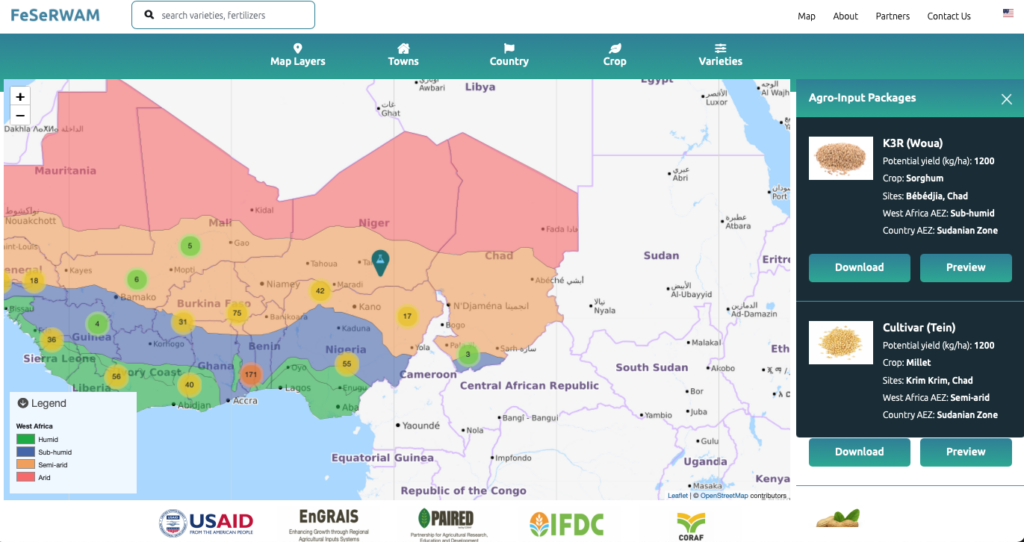 In a virtual meeting March 16, 2021, in collaboration with key regional and national partners, EnGRAIS and PAIRED validated the Communications, Marketing, and Dissemination Strategy and Action Plan for the implementation of the Fertilizer and Seed Recommendation for West Africa Map (FeSeRWAM) and Agricultural Input Packages (AIPs). The aim is to help over 600,000 farmers access quality information on appropriate fertilizers and improved seed varieties as well as Good Agricultural Practices.
The online strategy validation workshop brought together representatives from the Economic Community of West African States, the West African Monetary and Economic Union, the Permanent Interstate Committee for drought control in the Sahel, the Food and Agriculture Organization, the European Union, the World Bank, the African Development Bank, the Alliance for a Green Revolution in Africa, the West African Fertilizer Association, the Alliance for Seed Industry in West Africa, and more.
The FeSeRWAM platform and AIPs are expected to support decision-making and enable farmers to increase their agricultural productivity and improve their general well-being. The tools were developed by IFDC, in collaboration with CORAF, and funded by the United States Agency for International Development, West Africa, through the EnGRAIS and PAIRED projects.
The Communications, Marketing, and Dissemination strategy and Action Plan targets end-users and prioritizes sustainability of the tools beyond the EnGRAIS and PAIRED projects, by promoting involvement of the seed and fertilizer private sector, farmer-based associations/organizations, as well as national and regional institutions. Implementation of the plan begins April 2021, with at least 25 percent of the target audience expected to be reached by the end of 2021.
View the digital FeSeRWAM platform.