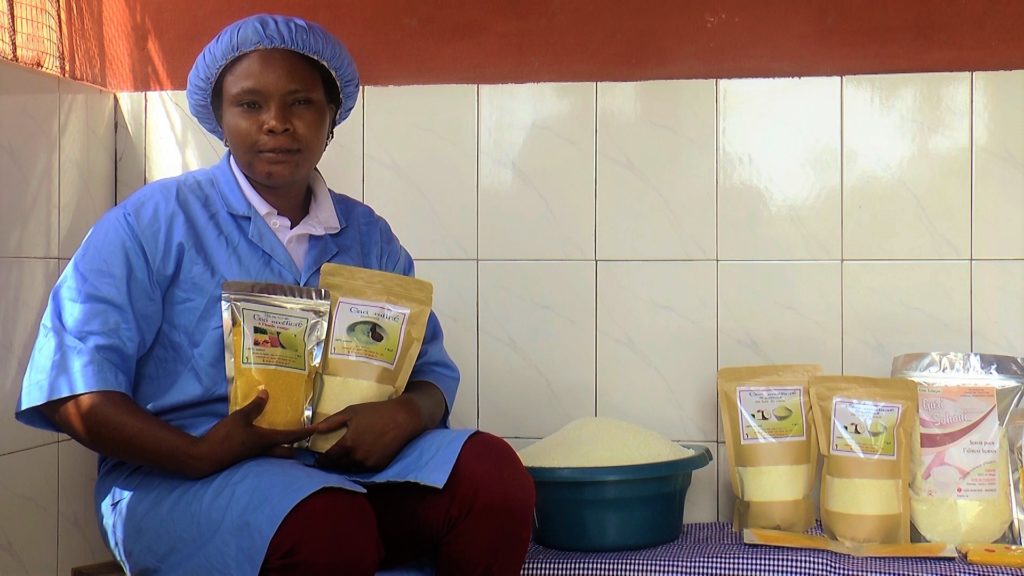 Sisso Afi Pélagie is a young Beninese woman who obtained a diploma in Tropical Agricultural Studies in 2016 at the Bernadette Sohoudji Agbossou Agricultural Technical High School in Adjahonmey, Couffo Department. Thanks to her dynamism, commitment, and sense of accomplishment, Pélagie has distinguished herself in the cassava processing sector.
"Since I was young, I have always had a burning desire to be an entrepreneur. Moreover, from my personal experience, I quickly understood that a diploma was not necessarily a guarantee of success in my life, because many graduates are unemployed. For me, entrepreneurship remains the solution. My parents are farmers. The production and processing of cassava is a heritage for me."
Soon after graduation, Pélagie settled in Abomey and started chicken breeding, vegetable farming, and cassava production on land belonging to her older brother. In 2017, confronted with insufficient financial resources to invest in livestock, Pélagie identified the processing of cassava into gari as a profitable activity that would allow her to make a substantial profit. Thus, she started processing cassava into gari. In 2017, Pélagie joined the Sonangnon Farmer Group, becoming General Treasurer in 2018. After that, she became General Treasurer of the Communal Union of Cooperatives for Processing Cassava into gari and General Secretary of the National Federation of Cassava Processors (FéNaTraM-Benin) the same year.
With the support from various partners, including the Communal Approach to the Agricultural Market in Benin (ACMA2) program, funded by the Embassy of the Kingdom of the Netherlands in Benin, Pélagie benefited from training on topics such as accounting management, agricultural techniques, manufacturing techniques for cassava products, quality standards, marketing, and product presentation. "I have significantly improved both my professional capacity and my mastery of my activity. Versatile, I can easily integrate the processing of cassava into gari with livestock, market gardening, and cassava cultivation," said the young woman.
The success she has achieved has even crossed international borders due to agricultural expos and other market linkages.
"For participation in the [agricultural expos], the ACMA2 program provided us with a series of quality packaging, labels, and business cards. This allowed me to impress my customers, sell my products, and build customer loyalty. In Lagos, I was successful in selling my products. I made 700,000 CFA francs in sales. I continue to receive large orders from Nigeria. Since 2019, I have delivered more than 700 kg of gari to my customers in Nigeria every month. Participation in these different expos has been a success, because I have made important sales figures, gained new customers, improved my visibility, and improved the quality and presentation of my products. Thanks to the participation in the expos, I was able to mobilize resources to set up my agro-pastoral farm on a 1-hectare estate, the dream of my whole life. On this farm I raise local chickens, turkeys, guinea fowl, ducks, sheep, and goats. I also grow vegetables and cassava. From 500 kg per month, I have now increased to about 2 tons."
Pélagie now promotes General Agro Business, a company specializing in food processing based in Abomey, with the brand "Tashiva"; in the local language, Adja, this means, "The aunt is there," a way of saying that the company's products are always welcome and are popular everywhere.
Full of ambition, she does not intend to stop there. Pélagie plans to open a restaurant that will promote lafun, a type of dough made from cassava flour. Most of the restaurant's products will come from her own farm.
In the long term, she plans to acquire land to increase the cultivation of crops such as cassava, maize, and soybeans to make animal feed.
She also intends to build her own processing unit to ensure availability of materials and equipment. This will enable her to meet delivery deadlines and better satisfy her customers.