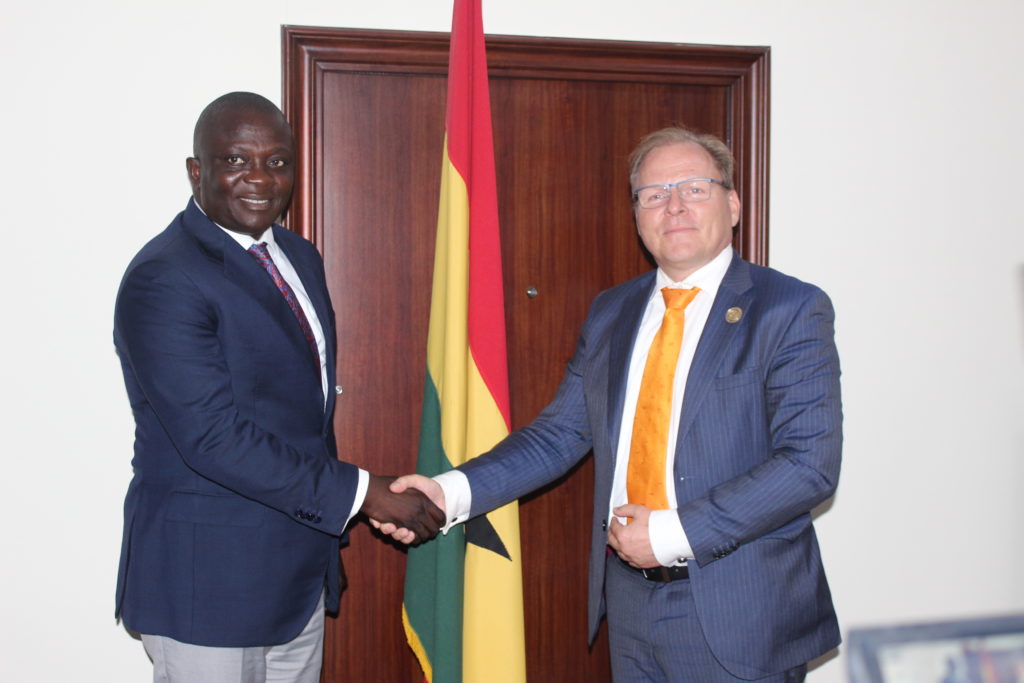 IFDC President and CEO Henk van Duijn visited Accra, Ghana, May 8-10, 2023, as part of his tour of countries where the organization has a presence. This was the sixth country he has visited so far.
Van Duijn met with officials from the United States Agency for International Development (USAID) West Africa Mission, representatives of the Embassy of the Kingdom of the Netherlands, and the Minister of Food and Agriculture to present his vision and strengthen relationships to enable IFDC to have more impact in Ghana.
The meeting with the newly appointed Minister of Food and Agriculture, Bryan Acheampong, provided a great opportunity to identify areas for further collaboration. IFDC has been working in Ghana since 2002 and has maintained a close relationship with the Government of Ghana, through the Ministry of Food and Agriculture. The organization has contributed to the development of agriculture across the country both directly and indirectly, promoting local economic development.
Van Duijn reported on four initiatives IFDC is currently implementing in the country:
Van Duijn explained IFDC's vision of providing technical support on soil health and fertilizer and pledged to work closely with the Government of Ghana and other stakeholders to restore the country's soils and help farmers produce more food. He also expressed IFDC's willingness to continue disseminating sustainable agricultural solutions to improve soil health, promote food security, and increase the incomes of farmers.
Talking about one of IFDC's core competencies, van Duijn said IFDC aims to develop and transfer improved production technologies to smallholder farmers while connecting them to profitable markets.
The Minister of Food and Agriculture acknowledged IFDC's contribution to the development of agriculture in Ghana. He assured van Duijn of the Ministry's desire to continue working with IFDC to improve agriculture in the country to benefit hardworking smallholder farmers. He lauded the partnership between IFDC and the government and admitted that such partnerships are vitally important, as the government is seeking to transform the agriculture sector to meet the demands of the country's population. It is considering moving away from direct subsidies, which the minister said does not benefit farmers who lack access to capital.
The IFDC President and CEO and the Minister of Food and Agriculture are expecting deeper collaboration and will soon sign a Memorandum of Understanding. "We would like to see how we can strengthen our collaboration and expertise by providing technical support to the Ministry's strategy, and we are looking forward to signing an MoU," van Duijn said.