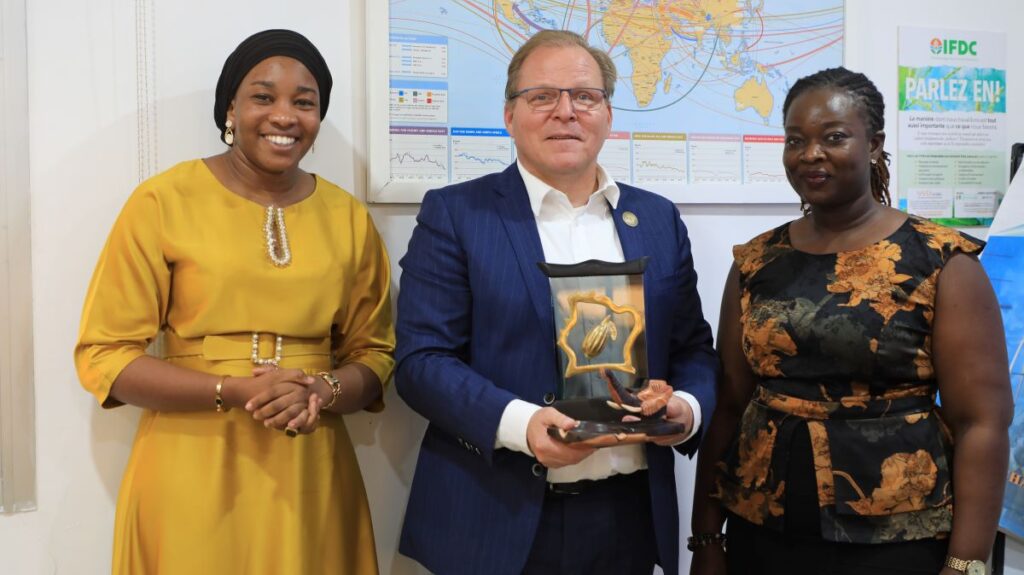 IFDC President & CEO receives a gift from IFDC Côte d'Ivoire Country Director Olive M'Bahia (right) and 2SCALE project leader in Côte d'Ivoire Fatoumata Coulibaly (left).
After traveling to nine countries since January, IFDC President and CEO Henk van Duijn visited Abidjan, Côte d'Ivoire, from June 7 to 10. This visit was part of a series of engagements between the van Duijn, IFDC country teams, and technical and financial partners in 25 countries where IFDC operates.
During van Duijn's visit, meetings were held with the Côte d'Ivoire Minister of Agriculture and Rural Development Kobenan Kouassi Adjoumani, the Ambassador of the Kingdom of the Netherlands Yvette Daoud, and representatives of the African Development Bank (AfDB).
A work session was also organized with local technical partners to strengthen existing partnerships and identify new opportunities. Throughout these meetings, van Duijn presented IFDC's vision and discussed technical support the organization can provide in areas such as soil health, fertilizer use and quality, and market systems development.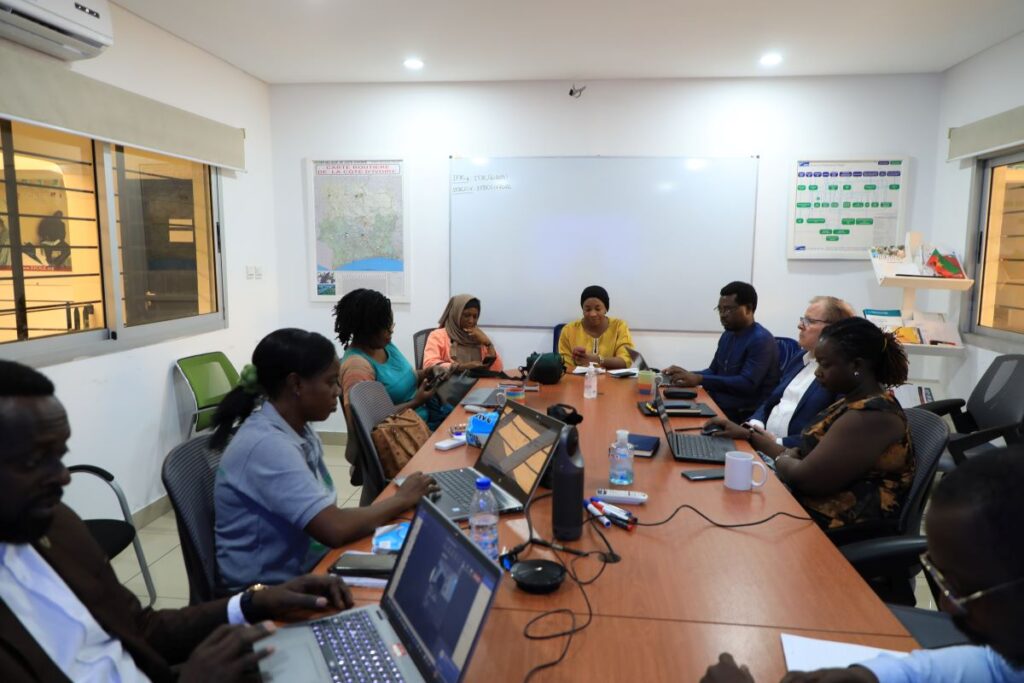 IFDC continues to collaborate with AfDB and provide fertilizer market information to make fertilizer more accessible and affordable to farmers. Discussions with AfDB revolved around the harmonization of policies by implementing regulations to enable impact and ensure the quality of fertilizers distributed to farmers.
At the Ministry of Agriculture and Rural Development, van Duijn, accompanied by IFDC Côte d'Ivoire Country Director Olive M'Bahia and 2SCALE Country Project Leader Fatoumata Coulibaly, shared IFDC's interventions in the country with Minister Adjoumani.
Van Duijn explained the organization's impact, stating, "We work on soil health, fertilizer research, market access, and market systems through regional programs such as the Feed the Future Enhancing Growth through Regional Agricultural Input Systems Project (EnGRAIS), 2SCALE, and the AfricaFertilizer (AFO) initiative. We can do much more to support the country in soil mapping to understand the status of our soil. IFDC has the capability to assist in the implementation of the recommendations from the upcoming African Union Fertilizer and Soil Health Summit, as planned in various other countries throughout the West African region."
Minister Adjoumani expressed Côte d'Ivoire's interest in utilizing IFDC's expertise to a greater extent. The week before this meeting, the Minister and van Duijn were in Lomé, Togo, to participate in the High-Level Roundtable on Fertilizers: Investing in the Future by Improving Soil Health, organized by the Economic Community of West African States (ECOWAS) Commission, to validate the Roadmap on Fertilizers and Soil Health in West Africa and the Sahel. Adjoumani intends to ensure IFDC has a host agreement with the country. "Your support is welcome in the renovation of the fertility of our cocoa fields," he added.
A productive meeting with Netherlands Ambassador to Benin Yvette Daoud allowed rich discussions on various areas of collaborative work, especially in the vegetable value chain, a focus sector for the Netherlands in Côte d'Ivoire. In September, the Netherlands will be the country of honor at the next Salon de l'Agriculture et des Ressources Animales (SARA), and IFDC, with other partners, is working to highlight the initiatives and support the Netherlands has provided in the development of agriculture and local agri-food processing in Cote d'Ivoire.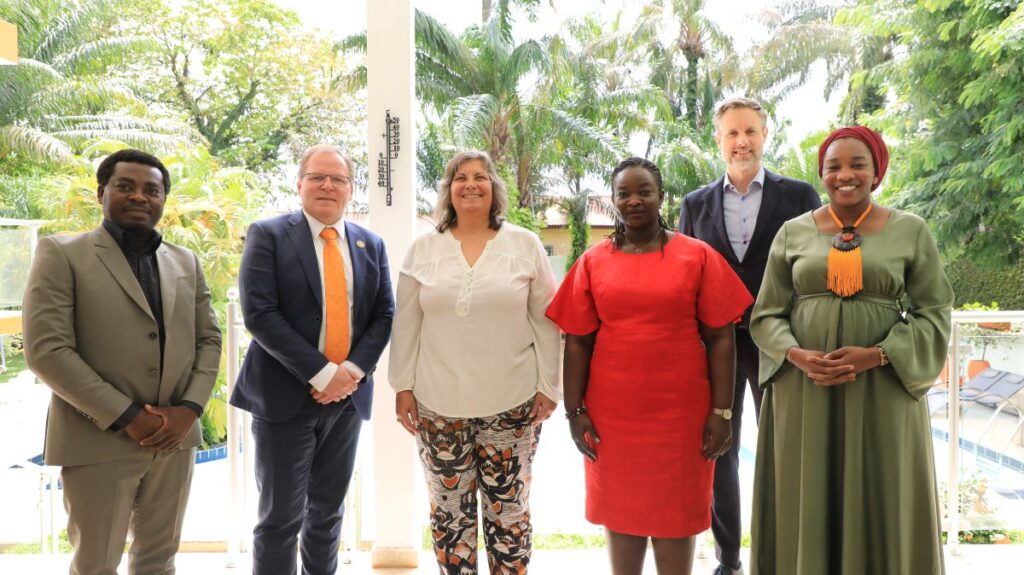 At the end of his visit, van Duijn met with technical partners. More than 40 participants from public, private, and development organizations attended the meeting. The partners were very interested in IFDC's interventions and the support the organization could bring, especially in the cocoa sector, where producers have increasingly been abandoning degraded soils and migrating to find more fertile forest soils, reducing forest area and harming the environment.
"IFDC wants to, and can, help farmers improve soil health, agricultural productivity, and household incomes, thereby contributing to the food security and economic development of their villages, nations, and the world. We cannot do it alone, we need all of you who are engaged in food security, soil health, and market access."

Henk van Duijn, IFDC President and CEO
Olive M'Bahia, IFDC Country Director of Côte d'Ivoire, shared her thoughts on how IFDC can make an impact in the country: "With IFDC's 50 years of experience, we will be glad for Côte d'Ivoire to take advantage of the organization's expertise to push forward agricultural development in the country. The CEO's visit is a huge motivation for us, and I am sure many more successful results will be achieved very soon."
This inspiring visit was very beneficial for Côte d'Ivoire in sharing ideas for collaboration and strengthening partnerships.