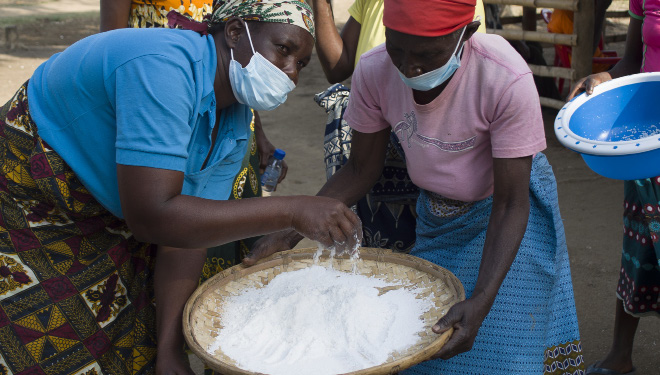 Women processing rice into flour for sell at local markets in Buzi.
The sight of women with large woven baskets selling rice greets visitors to Buzi in the Sofala Province of Mozambique. This scene represents an even more extensive and complex process that starts in the rice fields a few kilometers outside the small town.
An elderly woman rushes to receive me with an ever-welcoming smile as I get off the bus. Her name is Ana Maposa, and she is one of the prominent rice farmers in Buzi who, on this particular day, will take me on a tour of how this essential cereal, the staple food of Mozambique, gets to our dining tables. We set off on a footpath leading to the Buzi River to board a canoe to take us to the other side of town, where Ana resides with her granddaughter. She starts discussing how the production season has been progressing and is already lamenting the unpredictable weather patterns.
Ana has witnessed first-hand how rapid climate change has negatively affected rice production in Buzi. The cyclonic activity observed in the past few years fostered much flooding, threatening the livelihoods of many rural farmers in this region. Rice farmers have suffered huge losses due to the increasing number of tropical storms and cyclones.
Ana has been producing rice all her life, and a good harvest guarantees her survival. However, Ana's life was turned upside down in 2019 when Cyclone Idai devastated her homestead and rice fields, leaving her with nothing to depend on. The heavy rains and strong winds instigated flooding, causing the deaths of thousands of people and the destroying property and crops in Sofala and Manica provinces.
"My neighbour who was not using hybrid seeds lost all her crops to Cyclone Eloise. I have managed to help her transplant hybrid seedlings from my field."
The extreme climate change continues to threaten farmers living here, provoking perennial malnutrition and even deaths. But like many farmers in the area, Ana had not been applying climate-smart agriculture practices, thereby escalating her crop losses. "Every year at harvest, we just kept a portion of the rice for replanting when the rains came. Our parents had done it, and their parents too, so it is something that we grew up seeing. We realized, though, that there had been a steady decline in the yields that were getting yearly, but somehow, we remained content with what we were getting, even though it was not sufficient," grieved Ana.
In January 2020, Cyclone Eloise made landfall, bringing winds of 140 kilometers per hour (km/h), with gusts of over 160 km/h and heavy widespread rainfall in districts in Sofala and southern Manica, further aggravating the already desperate circumstances for rice farmers in Buzi. Ana once again found herself in a battle against nature. Fortunately, she had started using climate-smart agricultural practices introduced by IFDC through the FAR project in 2020.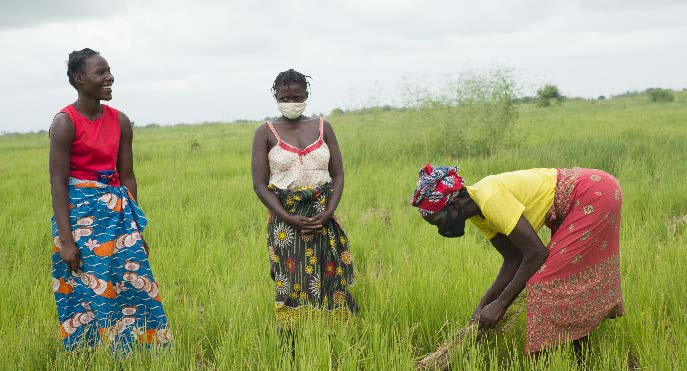 "My neighbor, who was not using hybrid seeds, lost all her crops to Cyclone Eloise. I have managed to help her transplant hybrid seedlings from my field. This new rice variety is very resistant to floods and produces high yields per hectare," said Ana.
Rice farmers like Ana, who participated in the TEAMS program, quickly realized a transformation in their production. The rice varieties, Macassane and Simão, as well as other agricultural inputs introduced by IFDC, are readily available through a network of agro-dealers operating in the district.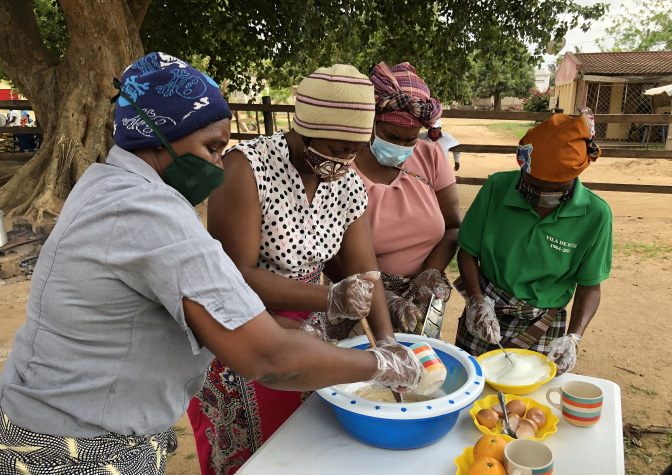 These innovations and the use of fertilizers and herbicides have ultimately led to an increase in yields, and in 2021, IFDC trained a group of women to process rice into a variety of products, thus adding value and opening more market opportunities for rice production and commercialization in Buzi. "Through using hybrid seeds and other CSA practices, I am managing to pay for my daughter's education. I can now produce enough rice to sell as grain and process it into other rice recipes, such as cakes, biscuits, and sweets. I am happy with the rice processing training I participated in, initiated by IFDC, because I can now make more money and eat a healthier diet," explained Ana.
As the sun sets, we head back to the river after an insightful day in the life of a rice farmer. The challenges of climate change continue to threaten smallholder farmers, and as in the case of Ana, the only remedy is to adopt climate-smart agricultural practices. Her success story and the assistance she gave to her neighbors after Cyclone Eloise will go a long way in proving the efficiency of CSA practices and hopefully transforming the life of every farmer.