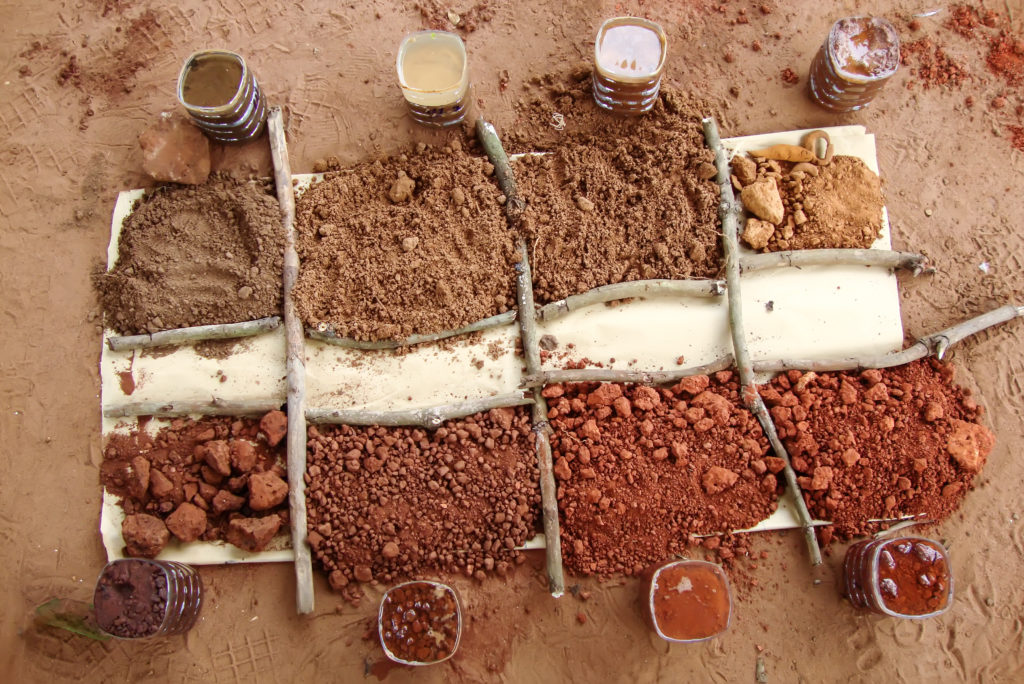 IFDC's work under the Feed the Future Soil Fertility Technology Adoption, Policy Reform and Knowledge Management agreement* bridges the gap between scientific research and technology dissemination to smallholder farmers.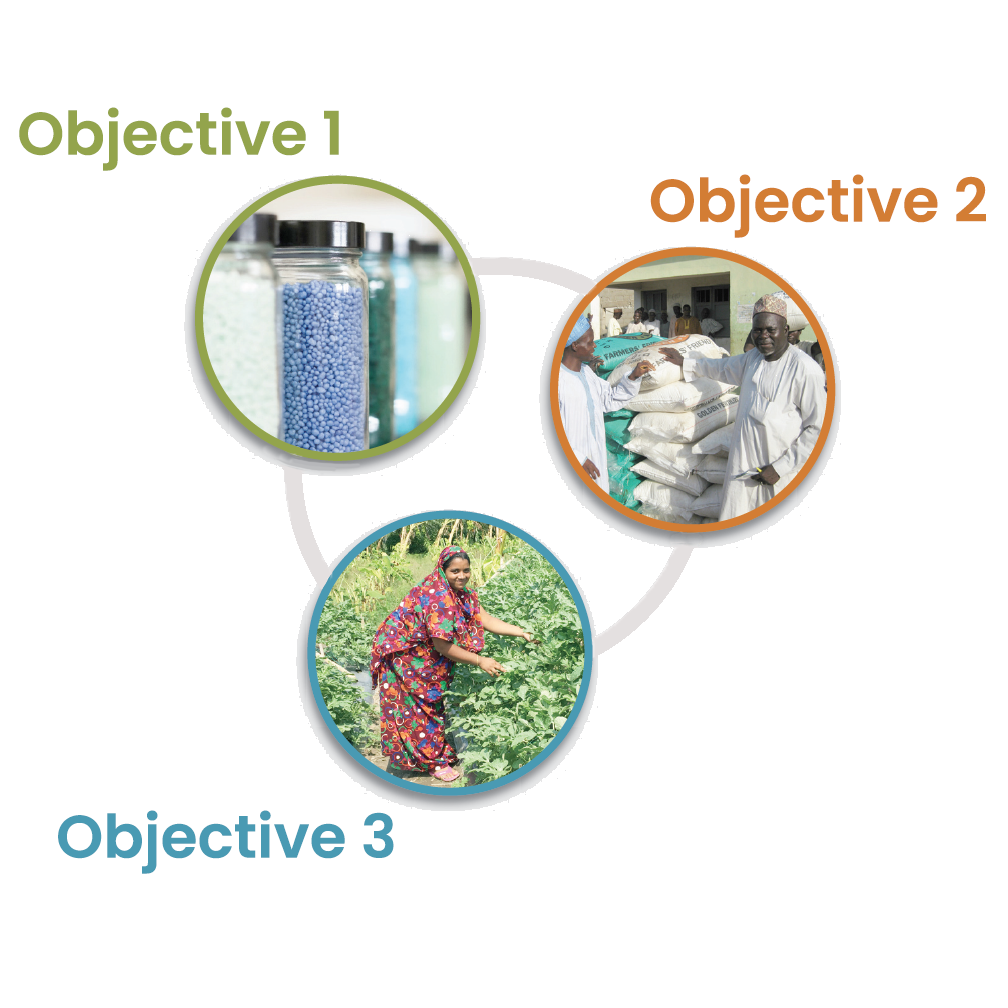 Research Objectives
The project conducts research with partners from universities, national and international research and development institutions, and the private sector.
The project is comprised of three interworking objectives that applies research accomplished in the lab and in the field to development situations.
Objective 1: Developing and validating technologies, approaches, and practices
Objective 1 aims to bridge the gap between scientific research and effective technology dissemination to smallholder farmers in Feed the Future countries. The technology dissemination process depends on conducting research on well-characterized sites with a collection of site-specific data on soils, daily weather, socioeconomics, and management.
Activities under Objective 1 include:
Improving nitrogen use efficiency:

Develop and validate enhanced N fertilizers and application.
Mitigate greenhouse gas emissions.

Activated phosphate rock trials and field demonstrations.
Balanced crop nutrition:

Incorporation of secondary and micronutrients.
Soil SMaRT (Soil testing, Mapping, Recommendations development, and Technology transfer).

Sustainable soil intensification practices:

ISFM and conservation agriculture.
Nutrient recycling.
Objective 2: Supporting policy reform processes, advocacy, and market development
Under Objective 2, IFDC conducts evidence-based research to support input policy reform initiatives. More specifically, IFDC focuses on fertilizer policies for market development, with emphasis on accelerating agricultural growth using improved crop management technologies, especially fertilizers and complementary inputs. The three broad categories under this workstream include:
Documenting policy reform and market development:

Conduct evidence based research.
Influence policy reforms (e.g., stakeholder consultations and platforms).

Impact studies and assessments.
Agro-economic feasibility studies.
Objective 3: SOILS Consortium
In May 2019, IFDC, in collaboration with the Feed the Future Innovation Lab for Collaborative Research on Sustainable Intensification (SIIL) at Kansas State University, initiated the Sustainable Opportunities for Improving Livelihoods with Soils (SOILS) Consortium. The primary goal of the SOILS Consortium is to improve soil fertility in the most vulnerable regions of sub-Saharan Africa.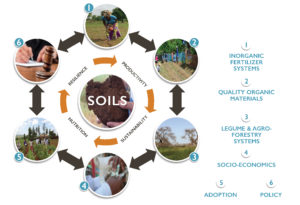 The consortium is bringing together national and international partners to develop and implement soil health and fertility-enhancing innovations. Academic and research partners include Michigan State University, University of Colorado, Auburn University, and U.S. Department of Agriculture (USDA) Agricultural Research Service (ARS). Through innovative research, coordination, capacity building, networking, data sharing, and communication approaches, the SOILS Consortium will provide sustainable solutions to build resilient households with access to nutritious food. Read more about the SOILS Consortium.
Reports and Publications
Scientific Reports
Semi-Annual Reports
2017
Semi-Annual Report (October 2016-March 2017)
Semi-Annual Report (April 2017-September 2017)
2018
Semi-Annual Report (October 2017-March 2018)
Semi-Annual Report 2 (April 2018-September 2018)
2019
Semi-Annual Report (October 2018-March 2019)
Semi-Annual Report (April 2019-September 2019)
2020
Semi-Annual Report (October 2019-March 2020)
Semi-Annual Report (April 2020-September 2020)
2021
Semi-Annual Report (October 2020-March 2021)
Contact Project Leader
---
*The SFT cooperative agreement, with buy-in provisions and IFDC's status as a public international organization, further allows USAID missions, offices, and bureaus to procure services rapidly without additional competitive procurement.